Suedfeld's Research Involving Extreme & Unusual Environments
Extreme Environments

This is the first of two pages describing Peter Suedfeld's extreme and unusual environment research. This is the more universal page, describing first the general concept of extreme environments and then Suedfeld's approach to studying them. The second page describes the unusual environments Suedfeld has investigated in the laboratory, with an emphasis upon the restricted environmental stimulation technique (REST).

The extreme environments most generally investigated exist outside the laboratory and are either naturally occurring or created for some reason other than the psychology research conducted in them. Typical examples are the Arctic, the Antarctic, underwater environments such as submarines, and space environments such as the international space station. Dr. Suedfeld has performed research directly in both the Arctic and Antarctic regions and has written about all of the above, as well as more short-term situations such as battlefields and disasters.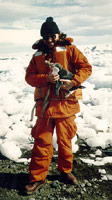 Peter Suedfeld conscripting a new labbie.
Polar Psychology Research

Polar Psychology in general is concerned with the various behaviours, personalities, and adaptations that comprise the human relationship with an extreme and unusual environment like the Arctic or Antarctic regions. Though a thriving research topic in and of itself, Polar Psychology receives extra attention because polar environments are often considered perfect analogs for studying the potential for human habitation of space or other planets.


Suedfeld's research has dealt principally with leadership styles in polar work environments and personality correlates of people who respond well to, and even crave, such extreme conditions. He has traveled to both polar environments to conduct interviews and to take part in studies of psychological and physiological reactions to the 24-hour daylight and other polar conditions. Although he does not have any current field research projects, Dr. Suedfeld is still active in the Canadian Antarctic Research Program. He has represented Canada in the Council of Managers of National Antarctic Programs, Scientific Committee on Antarctic Research (SCAR). He represents both Canada and the International Union of Psychological Science in the SCAR Standing Scientific Group in Life Sciences. He also enjoys an ongoing collaboration with Dr. Gary Steel of Lincoln University in Canterbury, New Zealand, a former student of his. Suedfeld and Steel continue to collect interviews and questionnaires in a long-term analysis of what they call "polar attachment" in a project known as the Polar Psychology Project.

Space Psychology Research

Peter Suedfeld would jump at the chance to personally conduct field research in space, but of course it is still only a destination for the highly trained astronauts and cosmonauts of the world. But that doesn't stop him from taking part in every way he can. The proper training and skills for space travel is in fact one topic of space research Suedfeld addresses. He has also served as a consultant to the National Aeronautics and Space Administration (NASA) on issues such as optimum capsule design for maximum habitability and psychological health.


Suedfeld has also worked with the Canadian Space Agency (CSA), again in collaboration with Gary Steel, on issues of capsule design and long-term habitability. Most recently, Suedfeld has started an archival project, funded by the CSA, to look into the positive and negative aspects of the subjective experience of space flight. The following is the first in that series of studies:
Astronaut Memoirs

The first part of this study scored the autobiographies of four early astronauts for values. These values included items such as power, achievement, stimulation, hedonism, self-direction, universalism, benevolence, tradition, conformity, and spirituality. Other variables, and many more autobiographies and other sources, are being examined as the project proceeds.
Last updated: Monday, June 7, 2004
---
For a complete list of Dr. Suedfeld's articles related to polar and space psychology, as well as those related to a number of other intrinsically extreme and/or unusual environments, click to see the list of relevant publications on this topic. To learn more about capsule environments, and other reduced stimulation environments, visit the "Unusual Environments" page.
---


About this web-site

This web-site describes the research and other achievements of Dr. Peter Suedfeld, Professor Emeritus in the Department of Psychology at the University of British Columbia.

This page is one of two describing Dr. Suedfeld's research involving extreme and unusual environments. It describes environments that are intrinsically extreme or unusual, such as the north and south polar environments on Earth or past, present, and future man-made environments in space. The unusual environments page describes special environments created in the laboratory for the sole purpose of exploring human reactions to such conditions. In particular, the page focuses upon reduced stimulation environments, which Dr. Suedfeld has investigated at great length. The rest of the site is organized under the following topic headings:
Personal information:

Other research topics:

---

Web-site and Image Credits