About Peter Suedfeld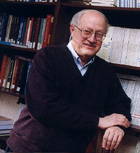 Peter Suedfeld was born in Hungary and emigrated to the United States in 1948. After three years of active duty in the US Army, he received his bachelor's degree from Queens College of the City University of New York in 1960 and his Ph.D. from Princeton University in 1963. He taught at the University of Illinois and at University College, Rutgers - The State University of New Jersey before moving to The University of British Columbia (UBC), where he was appointed Professor of Psychology in 1972. He served as Department Chairman at Rutgers from 1967-72, and at UBC as Head of the Department of Psychology from 1972-1984 and Dean of the Faculty of Graduate Studies from 1984-1990. In 2001, he was appointed Dean Emeritus of Graduate Studies and Professor Emeritus of Psychology. Suedfeld has held Canada Council and Killam Foundation Fellowships, and sabbatical or concurrent appointments as Visiting Professor at the University of New South Wales, Visiting Fellow at Yale University, Distinguished Visiting Scholar at the Ohio State University, and Distinguished Scholar in Residence at the Peter Wall Institute of Advanced Studies.

His research is generally concerned with how human beings adapt to and cope with novelty, challenge, stress, and danger. The research has three major aspects: laboratory and clinical studies on restricted environmental stimulation (for example, in flotation tanks); field research on psychological and psychophysiological concomitants of working in extreme and unusual environments such as space and polar stations; and the archival and experimental study of information processing and decision making under uncertainty and stress. Archival and interview studies have concentrated on leaders at the national and international levels, but have also included combat officers, prisoners, and students. During the past ten years, he has been conducting an extensive series of studies of the long-term adaptation of survivors of the Nazi Holocaust. He is the author of more than 200 journal articles and book chapters. Among books that he has written, edited or co-edited are: Personality Theory and Information Processing, Attitude Change: The Competing Views, Restricted Environmental Stimulation: Research and Clinical Applications, Psychology and Torture, Restricted Environmental Stimulation: Theoretical and Empirical Developments in Flotation REST, Psychology and Social Policy, and most recently (2001), Light from the Ashes: Social Science Careers of Young Holocaust Survivors and Refugees. He has presented invited and keynote addresses at many institutions and conferences in North and South America, Europe, Australia, Asia, and New Zealand.

Suedfeld has served as Co-Editor of the Journal of Applied Social Psychology, and Book Review Editor of Political Psychology; he is currently Associate Editor of Environment and Behavior. He is also on the editorial boards of Political Psychology, the Journal of Environmental Psychology, and the Interamerican Journal of Psychology. He was the organizer and director of the Polar Psychology Project, a multi-national, transpolar project investigating human adaptation to high-latitude environments, as well as of the High Arctic Psychology Research Station near the magnetic North Pole. He has served as an expert witness in US and Canadian courts, and as a consultant to the Canadian Department of National Defence, NASA, the National Space Biomedical Research Institute, the Canadian Space Agency, and the US Peace Corps.

Among other organizational offices, he has been President of the Canadian Psychological Association and the Western Association of Graduate Deans; he was the founding President of the International REST Investigators' Society; and has been Chairman of the Executive Committee of the Canadian Antarctic Research Program. In that capacity, he represented Canada in the Council of Managers of National Antarctic Programs, Scientific Committee on Antarctic Research (SCAR). He represents both Canada and the International Union of Psychological Science in the SCAR Standing Scientific Group in Life Sciences. He was the co-founder with M.E.P. Seligman, then President of the American Psychological Association, of the American/Canadian Psychological Associations' Joint Initiative on Ethnopolitical Warfare, and continues as a member of its Steering Committee. He has been Vice President and a member of the Governing Council of the International Society of Political Psychology, and is or was a member of various committees of the American and Canadian Psychological Associations and the National Academy of Sciences-National Research Council, as well as other scientific organizations.

Suedfeld has been elected a Fellow of the Royal Society of Canada, the Canadian Psychological Association, the American Psychological Association (6 Divisions), the American Psychological Society, the Academy of Behavioral Medicine Research, the Society of Behavioral Medicine, and the New York Academy of Sciences. In 1994, he was awarded the U.S. National Science Foundation's Antarctica Service Medal; in 1996, the Donald O. Hebb Award of the Canadian Psychological Association for distinguished contributions to psychology as a science; in 2000, the Zachor Award of the Canadian government for contributions to Canadian society, and the Just Desserts Award of the UBC Alma Mater Society for service to students; and in 2001, the Harold D. Lasswell Award for distinguished scientific contributions to political psychology. In 2002, he was named as the Monna and Otto Weinmann Memorial Lecturer by the US Holocaust Memorial Museum.
Suedfeld's Research Philosophy · Positive Psychology

Although Suedfeld's research has spanned a diverse array of topics touching on nearly every area of psychology, there has been one unifying concept through it all: the indomitable, resilient nature of the human race. Contrary to the approach typical of mental health professionals and the mass media, wherein the individual is portrayed as a victim of stressful events and emotions and terms like "disorder" and "syndrome" proliferate, Suedfeld's research has been guided by a far less fragile view of the human psyche. Repeatedly supported by his research findings, Suedfeld sees the average individual as relatively adaptive, resilient, and untraumatized in the face of even the most severely challenging situations and experiences. Stress, loss, and grief no doubt occur, but so does coping as the typical human reaction is to rise to challenge and overcome adversity.

The following are some of Suedfeld's most significant publications explicitly supporting his positive psychology research philosophy:

Suedfeld, P. (1997). Homo Invictus: The indomitable species. Canadian Psychology, 38, 164-173.

Suedfeld, P. (2002). Life after the ashes: The postwar pain, and resilience, of young Holocaust survivors. United States Holocaust Memorial Museum: Center for Advanced Studies (pp. 1-24). Washington, D. C.

Suedfeld, P. (in press). Racism in the brain; or is it racism on the brain? Psychological Inquiry.

Suedfeld, P. (2003). Reclaiming Heimat: Trauma and mourning in memoirs by Jewish Austrian reémigrés, Jacqueline Vansant (Detroit: Wayne State University Press, 2001). Holocaust and Genocide Studies, 17(2), 366-368.

Bar-On, D., Eland, J., Kleber, R., Krell, R., Moore, Y., Sagi, A., Soriano, E., Suedfeld, P., van der Velden, P., & van Ijzendoorn, M. (1998). Multigenerational perspectives on coping with the Holocaust experience: An attachment perspective for understanding the developmental sequelae of trauma across generations. International Journal of Behavioral Development, 22, 315-338.

Suedfeld, P. (1997). Reactions to societal trauma: Distress and/or Eustress. Political Psychology, 18, 849-861.

Suedfeld, P., & Steel, G.D. (2000). The environmental psychology of capsule habitats. Annual Review of Psychology, 51, 227-253.

Suedfeld, P. (2001). Applying positive psychology in the study of extreme environments. Journal of Human Performance in Extreme Environments, 6, 21-25.

Suedfeld, P., Ramirez, C., Deaton, J., & Baker-Brown, G. (1982). Reactions and attributes of prisoners in solitary confinement. Criminal Justice and Behavior, 9, 303-340.

Last updated: Thursday, July 1, 2004
---
---


About this web-site

This web-site describes the research and other achievements of Dr. Peter Suedfeld, Professor Emeritus in the Department of Psychology at the University of British Columbia.

This personal information page is the initial page for the site. The rest of the site is organized under the following topic headings:
Additional summary information:

Primary research topics:

---

Web-site and Image Credits